What's New? Blog Hop June 11
Hi and welcome to the "what's new" blog hop!

You should have come from Angies blog at http://atuttletime.blogspot.com In this hop, Angie challenged us to try a new product or technique…. So I decided to try a few new things…. So I'm going to do this post backwards and show you the card last….
So here's are all the products I used: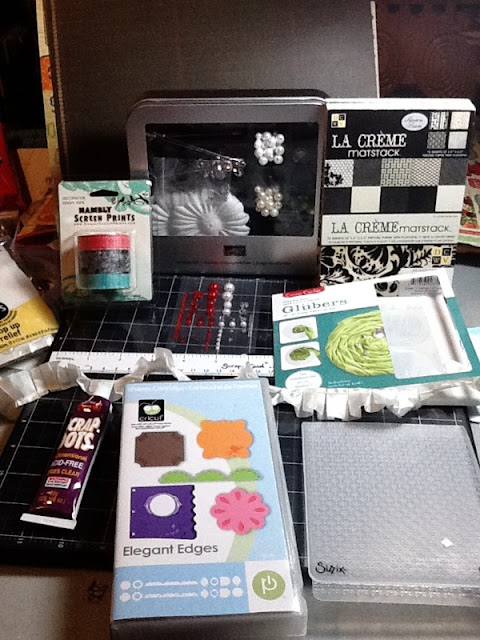 Most all these were either things I had never used or things I had bought recently (with this project in mind – can never turn down an excuse to shop!)
So the first thing I did was make a ribbon flower using the glubers and the cool ruffled ribbon (bought at green tangerines, my local scrapbook store)…. This is super easy – you just make a circle with the ribbon starting from the outside & working in towards the center…
Then I looked for a cool shape on Elegant Edges cricut cartridge and used my gypsy to cut out the shapes. This was my first time to use the cartridge…. Lots of cool shapes! Unfortunately, it cut the card down the center… I didn't want to cut it again so I used the hambly tape to tape the two sides together. I had seen a blog that used the tape for candles and of course I had to buy some!
I used black copic to edge the paper… But it still needed something…
So I used my cuttlebug & new embossing folder which added enough texture…
So I glued everything together using my helmar glue dots (I need to figure out how to use them, since it didn't work as expected)…
And since I've seen lots of people making beautiful stick pens, I made one & added it to the project. I also added gems, because you can't go wrong with more gems!!!
So without further ado, here's the card:
Side view – you can see that I didn't get the pop I expected from the glue dots…
Here's the inside….
So I hope you liked the card!
If you're new to my blog, be sure to become a follower. Crafty Card Gallery is an iPhone app (works on iPad and iPod Touch) and an Android app. It is a card gallery for handmade cards. You can follow great designers, and look for ideas. It's updated monthly so there's always new great content for you… New update was just released – over 565 cards, and growing every month!
You can get it in the iTunes app store and the android marketplace.
I have 2 different blog candies!
1) A free copy of the Crafty Card Gallery iPhone app. I will email you a free code for the iPhone version of the app.
2) a clear stamp
I will select the winners Monday night.
Your next stop in the hop is:
Angela, http://creativecraftin.blogspot.com
Thanks so much for visiting!
Jennifer
Here's the full line up in case you get lost!
1. Angie, http://atuttletime.blogspot.com
2. Jennifer, http://craftycardgallery.blogspot.com – you are here!!!
3. Angela, http://creativecraftin.blogspot.com
4. Belinda, http://beeshiveofdrama.blogspot.com
6. Heather, http://digipage-blog.everything-digital-scrapbooking.com
7. Amanda, http://craftsbyamanda.blogspot.com
8. Mary, http://marebearscraps.blogspot.com
9. Crystal, http://rusticdaisy.blogspot.com
– Posted using BlogPress from my iPad