Retirement Card & Contest
So my boss is retiring, and today was the last day I'd see him…I had already made a ginormous card for him for everyone to sign (12×12 using 12×24 card stock)

But I wanted to make him a card just from me to thank him for being such a great boss for all these years….. And since I'd already used golf, I wanted to do something different…so I made him this card.. I really like this stamp set, and it seemed like a fun idea…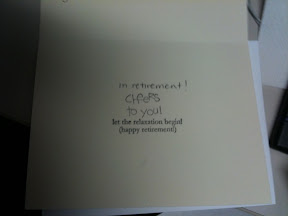 I don't have a lot of retirement stamps – so I hand wrote the sentiment – since he has to make a lot of decisions at work, hopefully the most difficult decision he'll have to make in retirement is choosing a cocktail! I will definitely miss him – but I'm sure he'll love retirement!
Supplies:
Cheers card: DCWV neutrals paper stack, stamps by stampin up, colored with Copics
Golf card: 12×24 paper, everyday paper dolls cricut cartridge
So looking at my Flipboard app tonight I noticed there was a retirement card challenge – so I'm entering this card into http://celebratetheoccasion.blogspot.com/ challenge!
In case you didn't stop by the blog hops this past weekend, I'm having a contest on my blog…
Details:
1) Create a card or layout – theme is celebrating someone you love
(can be animal).
2) You have a little over a week to create and post on your blog post and on this one via inlinkz on my page. This will be enabled at the top of the page. If you don't have a blog you can still post a picture. Card must be posted by 5/31
3) If you use product from or mention any of the following in your post, you get one extra vote each:
Crafty Card Gallery App – a great way to get inspiration on the go!
http://www.mycutsearch.com/ – a great way to search for cuts on your Cricut (formerly known as Cricut Search
http://acraftershaven.net/ – great online scrapbook/craft store
http://www.cricutcartridgestorage.com/scrapneasel.htm – my favorite new tool – easel for your layouts
4) On 6/1, voting begins. You have until 6/10 12 PM, PST to solicit votes… There will be a post with more details on that.
5) 6/11 winner will be announced. It will be the person with the most votes. In the event of a tie, winner will be selected randomly from top vote getters.
6) Winner will get a gift card to Crafters' Haven, a copy of the Crafty Card Gallery App, and a copy of the Bite Size Body Guide diet journal. Total retail value almost $40!
If you'd like to enter, go to this post:
http://networkedblogs.com/ik36Y
Be sure to stop back this weekend – I'll be in a HUGE blog hop for Operation Write Home…
Jennifer
– Posted using BlogPress from my iPad