Mothers Day Blog Hop
Welcome to the Mother's Day blog hop. We are making some great projects that will hopefully inspire you to make some beautiful crafts for whomever you cherish on Mother's Day. If you came here from Lizthen you are in the right place. If not start at the beginning at Jamie's blog for all the wonderful projects lined up for you today. Thanks to Jamie for hosting the hop! What a great way to celebrate mom! I know I really love & appreciate my mom!
My card is a little different. I didn't use girly colors, and it's a clear card, but I still think it's feminine enough for Mom. (I won't be able to use this for a mothers day card since my mom will probably see the post!!!)
So here's the card:
And the inside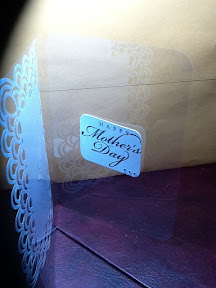 Here's what I used:
I used copics & gems too…..
It's difficult to see but the blue paper is glitter paper. I haven't mastered photography!!! Except for figuring out the punch, this was a relatively easy card!
I have blog candy….
If you're new to my blog, be sure to become a follower. Crafty Card Gallery is an iPhone app (works on iPad and iPod Touch) that is now available for Android Phones. It is a card gallery for handmade cards. You can follow great designers, and look for ideas. It's updated monthly so there's always new great content for you… New update was just released – over 500 cards! If you're buying mom some technology, why not load the app on there for her to enjoy???
You can get it in the iTunes app store and the android marketplace.
How to enter to win? Become a follower and leave a comment. I will select the winner Monday night using my random number generator app from all comments for the weekend.
The next stop on the hop is Tere
Thanks so much for visiting & have a great weekend!!
Jennifer
Jamie http://craftygirl21.blogspot.com/
Rhonda scraphappenswithRhonda.blogspot.com
Kristen http://www.fantabulouslypink.blogspot.com/
Court http://courtscrafts.blogspot.com/
Sonya http://sonyaspapertrail.blogspot.com/
Mari http://madebymomo.blogspot.com/
Kim http://rickettscricuts.blogspot.com/
Tiffany http://sparkledmemories.blogspot.com/
Lisa www.lisascreativeniche.blogspot.com
Meighen scrappin3rdeeschik.blogspot.com
Helen http://www.craftingcricutmom.com
Liz www.mywhichcraft.blogspot.com
Jennifer http://craftycardgallery.blogspot.com/
Tere http://terecontodomicorazon.blogspot.com/
Rebecca http://www.EclecticEndeavours.blogspot.com
Shawnee http://quiverofangels.blogspot.com
Dee Dee http://deedeecampbell.blogspot.com/
– Posted using BlogPress from my iPad