Birthday blog hop
Welcome to my blog, and the Birthday Blog Hop.

If you came from http://www.buglvr.blogspot.com/you're in the right place. If you were just visiting my blog, go back to the start at http://deesdesignsfrommyheart.blogspot.com The blog hop will run from 6/4 12am to 6/4 11:59pm EST. This blog hop is in honor of Denise's birthday. I hope she has a great day! Please post a comment and become a follower to be eligible to win some blog candy. Thanks to all of you for celebrating with us! Happy Hopping.
Denise likes purple & is very good at vintage cards… So I made a vintage card…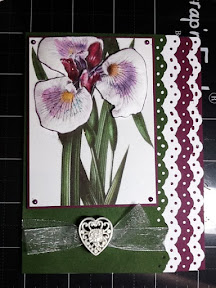 So you can see the dimension
So you can see the lacy layers
This was a fun card – I got the image from http://vintageholidaycrafts.com/wp-content/uploads/2009/01/free-vintage-flower-clip-art-purple-bearded-iris.jpg
I printed it out 2 times – and cut out the flower and pop- dotted it up after rolling up the petals. I also painted stickles on it to give it a little glitter..ribbon & heart and gems from JoAnn. Lacy punch from stampin up.
You have a few hours left to enter the contest on my blog… You could win a great prize!!! Go to this post
https://www.craftycardgallery.com/2011/06/contest-extended.html
If you're new to my blog, be sure to become a follower. Crafty Card Gallery is an iPhone app (works on iPad and iPod Touch) and an Android app. It is a card gallery for handmade cards. You can follow great designers, and look for ideas. It's updated monthly so there's always new great content for you… New update was just released – over 565 cards, and growing every month!
You can get it in the iTunes app store and the android marketplace.
Blog candy for this hop is:
1) A free copy of the Crafty Card Gallery iPhone app. I will email you a free code for the iPhone version of the app.
I will select the winner Monday night.
Your next stop in the hop is:
http://www.scrappingmamma.net/
Thanks so much for visiting!
Jennifer
Here's the complete list if you get lost….
Dee: http://deesdesignsfrommyheart.blogspot.com
Becky http://beckscricards.blogspot.com/
Anita http://www.anitaandbugs.blogspot.com/
Emily: http://www.createserendipity.com
Linda: www.thefruitofmyhands.blogspot.com
Nicolette www.beyondscrapin.blogspot.com
Jessica http://thecreativestamperspot.blogspot.com/
Gill: http://creationsbygillm.blogspot.com/
Kari Sanchz http://purplefuntastickcreations.blogspot.com/
Gina: http://californiascrappin-gcinderella21.blogspot.com/
Corri: http://www.buglvr.blogspot.com/
Jennifer: www.craftycardgallery.blogspot.com
Deborah: http://www.scrappingmamma.net/
Krista http://www.KristasPaperCafe.com/
Nicole: http://canadiannickelscrapn.blogspot.com/
– Posted using BlogPress from my iPad